06
October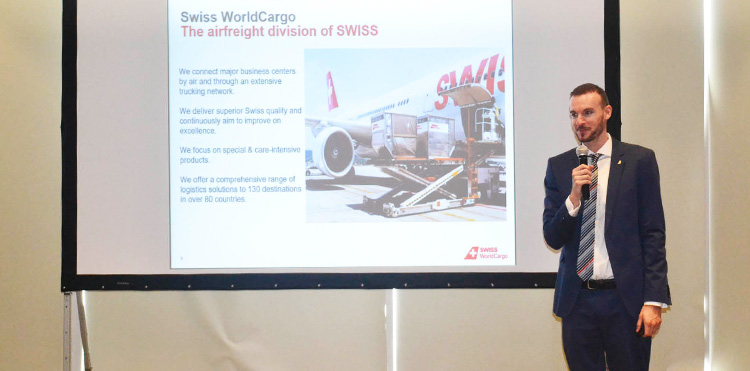 Gensag Aeropratama is Trusted As GSA of Swiss WorldCargo in Indonesia
PT. Gensag Aeropratama, a subsidiary company of PT. Ayuberga Group (GSA Saudia Airlines) is, again, trusted by one of airlines from Europe, Swiss International Airlines as a General Sales Agent (GSA) in Indonesia for its air cargo division, Swiss WorldCargo.
Previously, on 1st March 2018, PT Gensag Aeropratama has been appointed as a GSSA (General Sales & Service Agent) of Lufthansa Cargo AG, a global cargo airlines from Europe.
The launching and introduction of the Swiss WorldCargo was organized on Thursday, 4th October 2018 in Jakarta. The event was attended by Mr. Christian Hisserich, Swiss WorldCargo Manager for Singapore, Malaysia and Indonesia; and also by the Management from PT Gensag Aeropratama - President Director of PT Gensag Aeropratama, Mr. Andri A. Bermawi, and Managing Director of PT Gensag Aeropratama, Mr. Heldi Yanuar.
In his brief statement to the Cargo Times, Andri A. Bermawi expressed his gratefulness as his company has been appointed as a GSA in Indonesia to support the Swiss Worldcargo. "The appointment as a GSA is not due to the Swiss WorldCargo is part of Lufthansa Group, but because we followed the tender process that was applied," he said.
Meanwhile, Christian Hisserich expressed his contentedness to be able to work with professional people in PT Gensag Aeropratama. "Even if we are offline in Indonesia, but I am very optimistic that Gensag Aeropratama could support the air cargo business of Swiss WorldCargo, who has Asia hub in Singapore and International hub in Zurich Swiss," he said.
As your information, for Singapore - Zurich route, the Swiss International Airlines operate its Boeing 777-300ER for daily flight and is able to carry around 25 tons of cargoes with full passengers in it.
"We are not a big airline, indeed, yet Swiss WorldCargo guarantees the products of its services with 'Swiss Quality' have been recognized worldwide," Christian explained in one of his presentation sessions.
Some forwarding companies (cargo agent) also attended the presentation organized by PT Gensag Aeropratama, like: Agility Logistics, PT Anugerah Tangkas Transportindo, Bollore, Ritra Cargo Indonesia, DART Air Expressindo, PT Prima International Cargo, PT Expo Freight Indonesia, PT Panalpina Nusajaya Transport, PT Global Putra Indologistics, PT Tiga Sekawan Sukses Ekspress, PT KN Sigma Trans, PT Yusen Logistics Indonesia, MSA Kargo, PT Shipco Transport Indonesia, PT Schenker Petrolog Utama, and others.
In his statement, Heldi Yanuar claimed one of Swiss WorldCargo's excellences besides carrying General Cargoes, it is also able to give reliable services in carrying Pharma, Vaccine, and other special cargoes. "Today, we can receive order booking for Swiss WorldCargo. We can start with light cargoes or small packages first. Please come or contact our office at Wisma Soewarna on the 3F floor to get more detail explanation about the Swiss WorldCargo," he said to the forwarding companies.
The interactive presentation of Swiss WorldCargo organized by PT Gensag Aeropratama started in the morning at Mercure Hotel, PIK, North Jakarta and closed with lunch and photo session.