05
August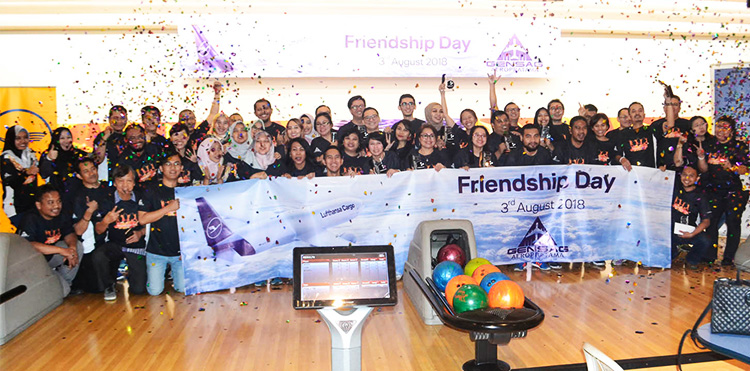 Friendship Day 2018, The Moment to Maintain Friendliness with Customers
PT. Gensag Aeropratama, a subsidiary company of PT. Ayuberga Group, GSA (General Sales Agent) of Saudia Airlines in Indonesia (Passengers and Cargoes), and Lufthansa Cargo AG, on Friday (02/08/2018), held an event of "Friendship Day 2018" at the Spin City Bowling, The Breeze BSD City, Serpong, Tangerang.
Besides the invited loyal customer (freight forwarding companies); the President Director of PT Gensag Aeropratama - Mr. Andri A. Bermawi, Managing Director of PT Gensag Aeropratama - Mr. Heldi Yanuar, Lufthansa Cargo Head of Sales Handling for Indonesia, Singapore, and Malaysia - Mr. Nasir Yahya, and the Cargo Manager of Sales & Handling of Lufthansa Cargo in Indonesia - Mrs. Suwarni Andrias also attended the event.
In the opening speech, Mr. Andri introduced PT Gensag Aeropratama that was officially appointed as GSSA (General Sales & Service Agent) in Indonesia on 1 March 2018 by the German cargo airlines, Lufthansa Cargo AG.
Furthermore, Mr. Andri also expressed his appreciation towards the management of Lufthansa Cargo. "We, PT Gensag Aeropratama, really appreciated the Lufthansa Cargo management. We'll do our best to continually support and develop the cargo businesses for Lufthansa Cargo in Indonesia."
In this Friendship Day event, continued Mr. Andri, was actually to maintain the friendliness amongst customers who have supported the Lufthansa Cargo's business this far. "Besides strengthening the friendship between the management of Gensag Aeropratama, the management and staffs of Lufthansa Cargo in Indonesia, and the loyal customers; this event is also to strengthen the friendship within Lufthansa Cargo' customers."
Meanwhile, Mr. Nasir Yahya, in his brief opening speech, agreed to Mr. Andri's statement that the Friendship Day is to intertwine the familiarity and friendliness between Lufthansa Cargo and their loyal customers beyond their daily routines.
A bowling competition at the Spin City Bowling, the Breezed BSD City, toned up the event. As the game started, the committee formed 10 teams. Each team consisted of customers from different forwarder companies.
After the announcement of the champions, the management of PT Gensag Aeropratama and Lufthansa Cargo awarded some placards and prizes (vouchers, merchandises to folding bikes) for individual and team. The session of picture taking among the management of PT Gensag Aeropratama, Lufthansa Cargo, and Loyal Customers closed the event.